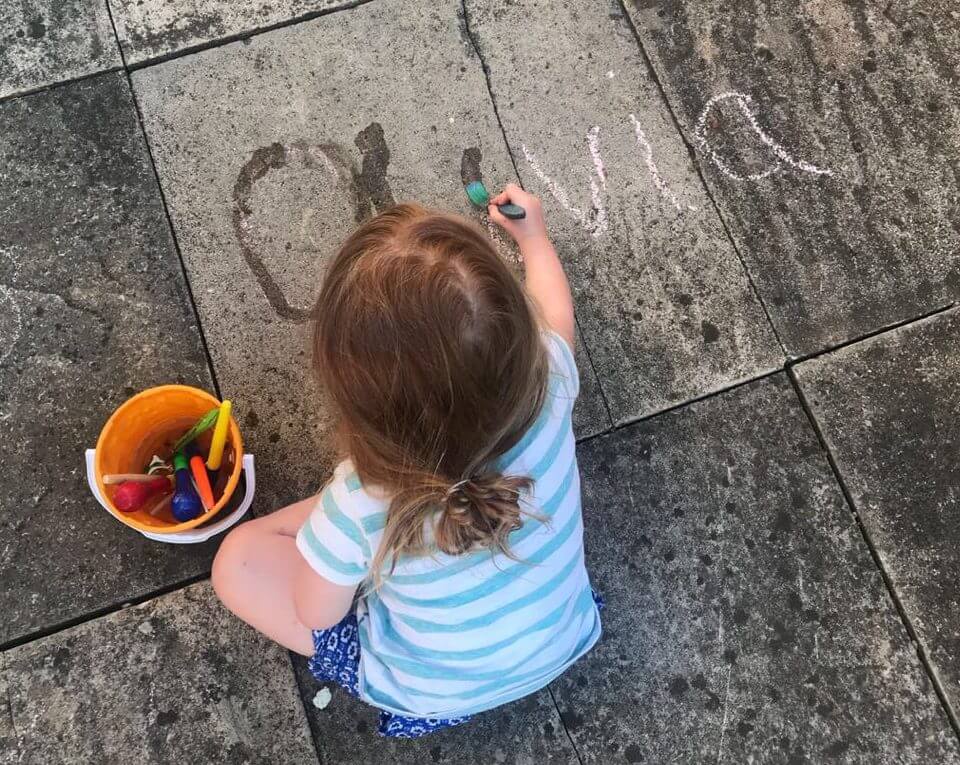 Looking for ways to keep the children entertained in the garden this summer?
There are so many simple activities that you can carry out that will not only keep them busy and stop any sibling bickering but also help them along the way with their development.
These simple activities are low cost and you probably have the resources already.
Disappearing Letters
Use chalk to write single letters, the child's name or anything you wish on a concrete area and give them a paintbrush and water to trace over them making the letter disappear this can also be done with numbers and shapes. Helping them to develop their control over mark-making tools as well as their letter recognition.
Teddy Bears Picnic
Grab the picnic blanket and set up a teddy bears/dolls picnic. Little children have such vivid imaginations. Olivia also loves to bath her babies in the garden.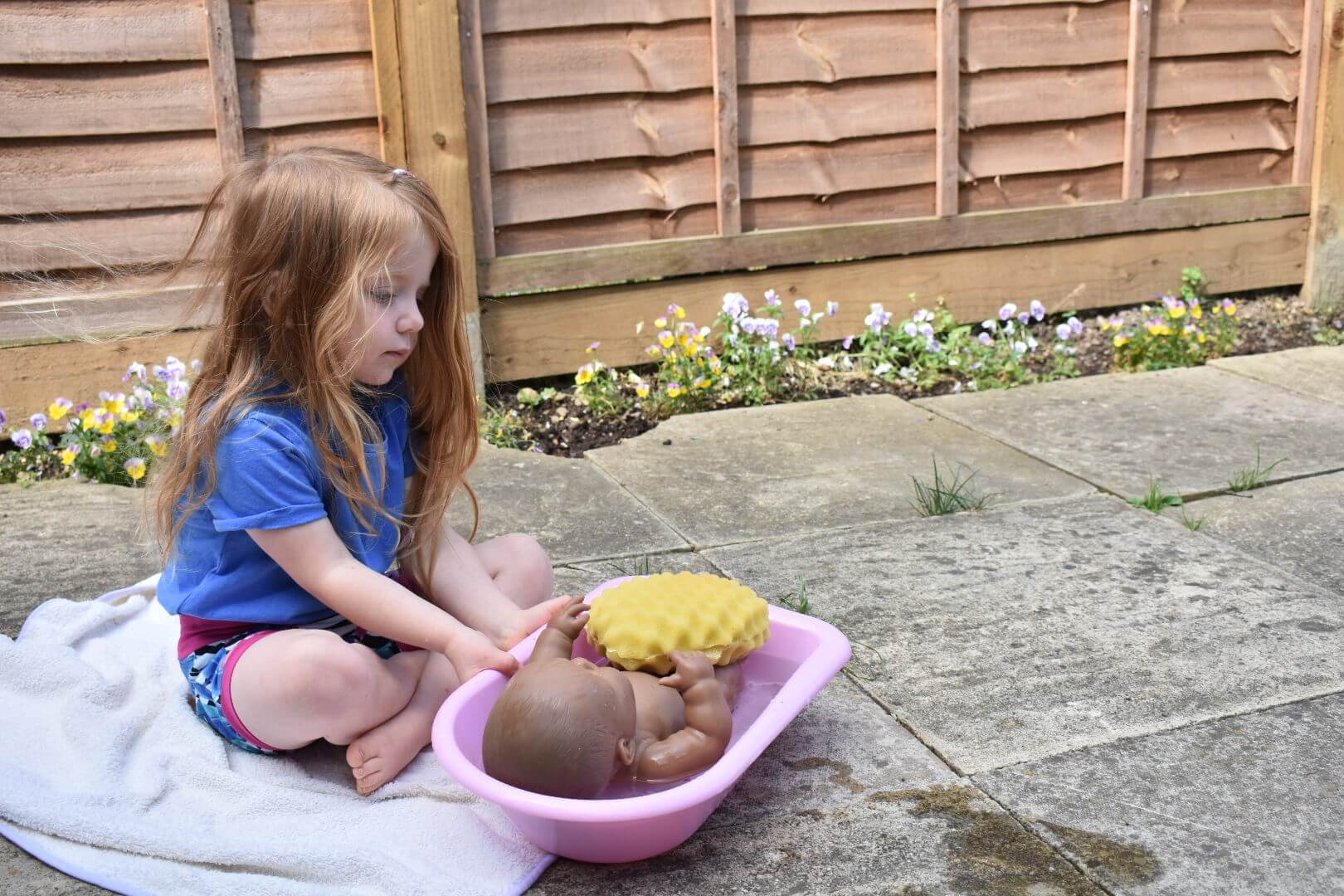 Paper Plane Race
Make your own paper please and then have fun seeing who can fly theirs the furtherest. Decorating the planes allows for early mark-making practice and racing them allows you explore distance.
Giant Bubbles
Cover the bottom of a tuff spot with water and washing up liquid and using a hoop see if you can make giant bubbles. Go careful if you are going to let children stand in the tray so that the bubbles are around them as the tray can become rather slippy.
Garden Scavenger Hunt
Scavenger hunts can be carried out different ways. You can either set them the challenge by finding something of certain colours or get them searching for specific things. There are so many example scavenger hunts online that can printed out or why not make your own.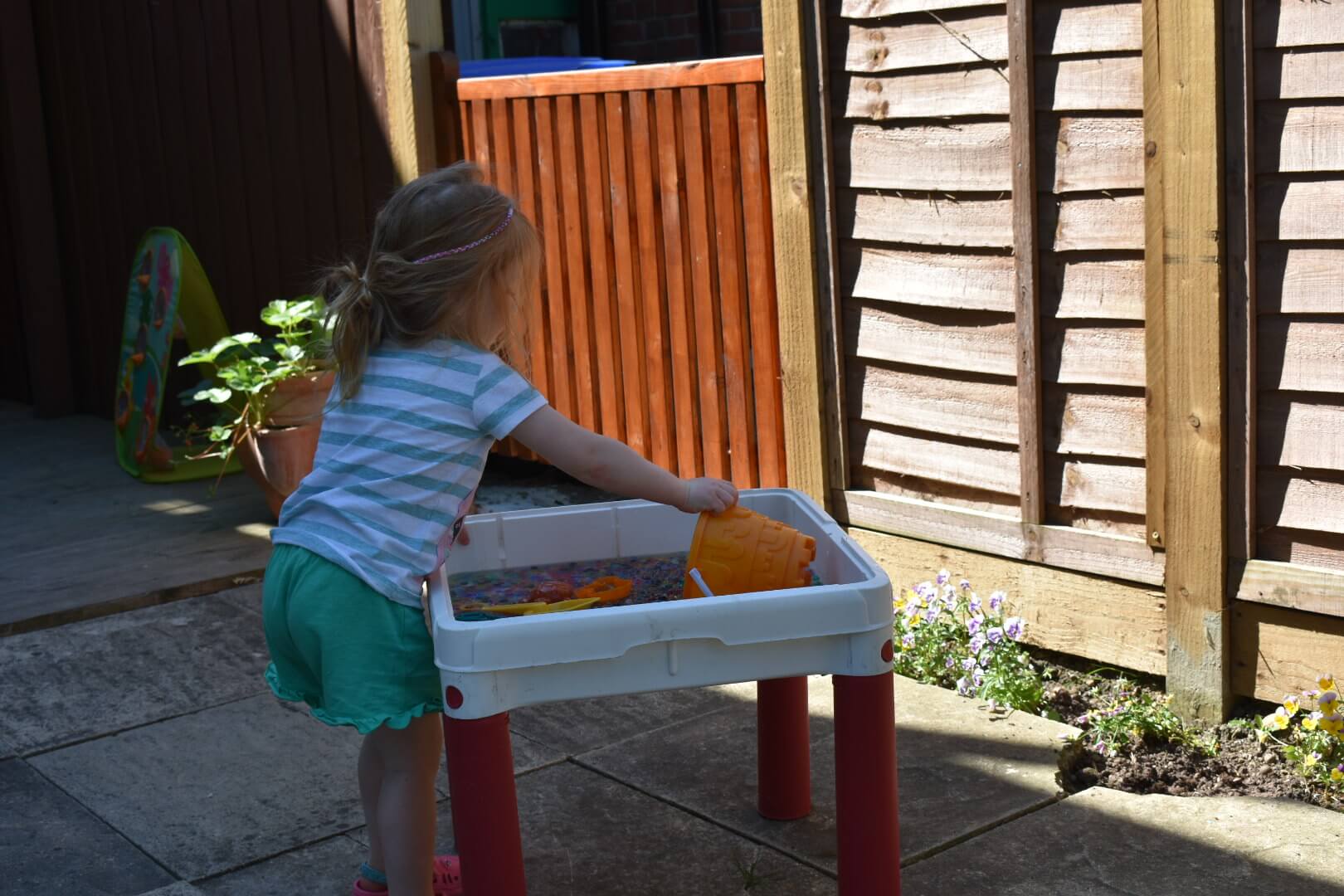 Water Bead Play
Why not fill the water/sand tray with hundreds of water beads. These little beads that expand in water are great for developing colour recognition and filling and emptying.
Planting
Buy some seeds and some plants and create their own little planting area. Not only is this a great way to keep then engaged initially but its something that you can come back to that will teach them about growth and decay.
Garden Soup
Jazz up the normal water play and set up a garden soup station. A soup station gives children the opportunity to explore lots of natural elements that we are surrounded by. Flower petals, leaves, twigs, flower buds are all fair game. Why not get them involved in collecting the natural items they would like to use then leave them to explore in big bowls, a water tray or storage boxes. Ladels, scissors, tweezers, tongs, measuring cups and funnels are great additions which will help them to develop their fine motor skills and hand-eye coordination.
Family Sports Day
Why not get the whole family involved in a mini sports day.
How do you keep the children entertained in the garden during the summer months?